Want all the vocabulary of the lesson ?
So you've decided that you want to learn to speak another language. Félicitations! Congratulations! Deciding to take action is sometimes the hardest step.
Now what? You're probably wondering how to learn a second language? It's not always easy to know where to start and (spoiler alert) learning a second language is drastically different from learning your first.
It's OK, we're here to help. In this lesson, I'm giving you all my top tips for learning a second language. By the end, you will:
Stop comparing yourself with a child and understand that "being slow" is 100% normal.
Learn how to prioritize your second language to master fluency (i.e. quality) rather than obsessing about just "learning more." (i.e. quantity)
See what is specifically missing from your French knowledge and how to patch up the holes in your spoken French (and maybe other languages you're learning too!)
Let's begin!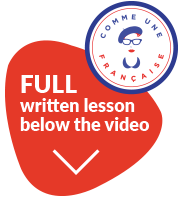 1. How You Learn a Language
A) It took you 10+ years as a child to master your first language(s) - so stop thinking you're a slow learner!
When you learn a native language (or two at once) from the moment you're born, you're not just learning a language 100% of the time. You learn how to think, to eat, to draw, to count, to walk, to write, to debate… everything all at once. As adults, we don't even notice children are learning so much so fast.
In terms of learning a language, it's not just your mom teaching you how to say "Mommy", "fork" and "I love broccolis"! You learn to speak the language while also learning the culture and rules of language. Your family teaches you how to think and your first language helps you:
understand that there are complex ideas around you
express yourself using words
After all, a child's brain is growing.
For example, French children learn:
Which words are baby French, familiar spoken French, polite French and vulgar French (you know, the ones they get from accidentally swearing or learn from older siblings)
French gestures and facial expressions too
That's why it's so important for parents to speak their native language to their children, so that their kids can learn to form and express complex thoughts through complex phrases. The Guardian recently published an article where they spoke on exactly this…
I'm quoting here: "Jim Cummins and Virginia Collier at the University of Toronto showed that it's far more advantageous for immigrant children to hear an eloquent, grammatically correct, richly nuanced language at home than be exposed to low-level pidgin English. They can then transfer those language skills – the concepts, diction and sophisticated structures – to their new language."
(Click here to read the original paper.)
It looks like a passive form of learning because the child is absorbing everything. They don't use grammar books and dictionaries, because they have a teacher 24/7 in the form of family and friends! Their brain is formed WITH the communication as a whole: melody of the voice, body language, consequences… it's a constant feedback loop.
What's amazing is how fast they learn all this at the same time.
But it takes a child much more than 10 years to fully master its native language. You wouldn't ask your little nephew or grandchild to write a cover letter for a job interview.
So breathe.
Want to read this lesson later ?
B) Learning a second language as a kid and as an adult are two COMPLETELY different things.
Now you're probably saying to me "Yes, but what about my neighbour's 10 year-old son who learned French in 2 years?". Ok. Well.
No matter how "magical" it seems for children, to learn a foreign language is ALWAYS an active process. You need to learn vocabulary, grammar, conjugation, culture and customs to become fully fluent. You also need a structure: a teacher, a book, a course… No one just "absorbs" a language by hearing it. It's a myth.
But there's a MASSIVE difference between how children and adults learn (and live) in general that students tend to forget.
An American friend of mine moved to France with her two lovely young daughters. They go to school in France and picked up French in a couple of months. They have almost no accent and can pass for French. Her mother was sometimes a bit desperate at how her own French had not improved.
SO MANY adults feel that way. But remember: learning French was the children's #1 daily activity. They were learning French in a French school 8 hours per day. These girls are very smart kids, ok. But come on. You have a job, responsibilities at home, projects and worries. Don't compare your life with a child's. That's unfair to both of you.
C) The ONE thing you should borrow from children.
There's ONE thing you should borrow from a child's strategy to learn a new language fast: they don't stop at mistakes. It they want "des bonbons" (sweets) in a shop during a holiday in France, they'll make themselves understood by the French shopkeeper, no matter how many grammar, vocabulary and conjugation mistake they make.
As a friend of mine says: "No child ever gives up on learning to walk just because they fell a few times". No adult goes around crawling in the street saying "Nope! Walking wasn't for me. I gave up trying."
Ok, maybe learning to ski or to skateboard is not for you anymore. But you have ZERO chance of breaking a bone while learning French.
So allez.
2. How to Learn a Second Language as an Adult
A) The ONE thing you should borrow from children.
Beginner, intermediate and advanced students alike often tell me "I want to improve my spoken French by learning more vocabulary / grammar / conjugation."
Great. Do that and you won't be an adult human fluent in French. You'll simply be Siri (or Google Translate) with a heart beat. 😉
When you learned a first language, you parents didn't just teach you the words for "carrots", "bread" and "fork". Learning a language is not just about vocabulary or children would just become dictionaries. No, your parents and surroundings taught you what's beyond words: the rules, the customs, the taboos, politeness.
Let's take "carrots" as an example. When eating carrots, children learn:
The words to define what and how they're eating: une carotte, une fourchette, une assiette, une bouchée (mostly used for children), aimer…
Traditional French games to make children eat
Spoken French structure : "J'aime pas" instead of "Je n'aime pas"
How to express your feelings politely: "J'aime pas" and not "C'est pas bon".
French food : les carottes
Vichy, les carottes râpées, la soupe de carottes
Table manners : on ne met pas les coudes sur la table (no elbows on the table), on tient sa fourchette correctement, on mange toujours ensemble, comment dresser la table, etc.
Children and adult dynamics: Children behave well at the table, respect food and taste it. Adults can have conversations without children interfering.
>>> That's the key of the lesson today on how to learn a second language.
You forgot about this part of language learning because:
You were taught all at once as a baby in a passive way.
You taught it to the children around you without even noticing.
It's so deep in your brain that you forgot that all your references are specific to your culture (it can even be region/religion/generation specific, but I'll stick to general rules).
You see it now?
Your mom, your cousin, your grandfather, your next door neighbour taught you how to address a stranger politely in your language and culture by:
showing you how
teaching you how
encouraging you (or making you!)
correcting you
So in the end, you learn that you should smile when you say hi, address an elder using words like "sir" and "m'am", don't use slang when you're addressing your grandmother, etc.
You probably think that to speak a foreign language you simply the language and tadaaaaa, just like in a dubbed movie, you're fluent.
NO!
Even if we ONLY look at words (putting body language, tone and traditions aside), languages evolve with the situation. Language have rules of communication IN THEM.
That's why TV series like The Office has 2 versions: UK and US. Same topic, different cultural codes and jokes. Same with international TV games such as The Voice and Masterchef. They could just dub it! But no, the cultural subtleties are different.
Even if you used the exact script of a foreign movie and set it up in Paris to make it pass for French, it wouldn't work.
In French, communication is an art form. We go from silence with strangers (by the way, NEVER give your first name too soon) to heated debates with friends. If you mix up the steps of communication building while being fluent in French, you're pass for ignorant fool or a sociopath.
In English, you = one person OR several people. No matter whether you speak to your child, your best friend or your boss, it's the same word.
In Spanish, there are SIX ways to use the English subject "you"! In fact, there's one for each situation. Tú, Usted, Vos, Ustedes, Vosotros and Vosotras. If you speak Spanish too, you'll even know that some are specific to Spain, others to Latin America!
Politeness in Japanese is integrated in the grammar with THREE levels of politeness: plain, simple and super polite.
You see, vocabulary is just the tip of the iceberg.
When learning a language, children learn all the communication rules of the language without thinking. You even forgot you taught them! But you have to learn them again in your second language.
And I won't even talk about customs!
Fun fact about table customs though: in France, your mom would teach you to put your hands ON the table, never on your lap. 🙂
B) The 2 elements to focus on when learning a second language.
Let's recap what we learned so far:
Learning a second language is an active process, so don't compare yourself with a child learning to speak.
You're an adult with responsibilities, so stop agonizing over 8 year-olds learning French as a second language quickly during a 6-month immersion in Paris.
Your culture is rooted so deep in your brain that your forgot it's specific. You can't just dub a movie in French to make it French. Language goes beyond words.
You won't learn a language passively from your parents anymore, so you have be strategic when you learn a language on your own.
1) Understand how a language works and what your mom taught you without telling you about it.
A language (here, I'll take French as an example) is made of 3 ingredients: vocabulary, communication habits and culture.
Look at the proportions. You have to be strategic in your learning to cover the gaps in your knowledge.
2) You're an adult, so aim to speak like an adult (not a toddler or a dictionary).
We saw that children don't learn a first language the way you are learning a second language as an adult because they are learning to think and speak and use their mouth to form words at the same time.
By now, you are a fully functional adult who can express complex thoughts in your native language and appreciate the context of a situation while adding the appropriate amount of cleverness and humor to a conversation.
So, aim to do the same in your second language ! Stop focusing on superficial vocabulary learning. No one cares if you don't know the word "pineapple" in French or don't have a perfect pronunciation of "on" and "euh". Work on the 20% that will make wonders 80% of the time!
It's all the things your mom taught you as a kid, transferred to the second language, as seen above.
C) Now matter how "slow" you are, a second language is good for your brain and your income.
3. Some Specific Differences Between English and French
I'll give you more details by email very soon (if you're reading this from YouTube or Facebook, be sure to join my mailing list or you'll miss out), but I want to show you a glimpse of the aha moment in French.
A) French conversation is highly codified.
We start with silence. To us, silence is respect, not arrogance. This is the biggest misconception of French culture, feeding into the "French people are so rude" cliché.
So, for example:
Start a conversation in a queue like you'd do at home and your French queue neighbour will freak out.
Smile too much to a French stranger and they'll think you're trying to trick them.
Introduce yourself with your first name, city and nationality and French people won't know what to say because this is way TMI for a first encounter.
Yes. Even "being nice" is a different. Some "friendly" habits you have are rude and inappropriate in France.
I'm not saying it's "bad" in itself, it's just different.
French children know that, because they were raised this way.
You can't learn this from books. We are taught these rules as children, so this is also what is expected from adults. (That's just one reason why really knowing how to learn a second language is so difficult!)
It's the same way in English. As a child, you may have been taught that presenting yourself, smiling a lot and engaging in chit chat with your neighbour is the polite thing to do.
Remember what I said about being a fully functioning adult in a second language? You have to learn those conversation rules to become one. Otherwise, you'll always be the nice-and-cute but clumsy-and-a-bit-boring outsider. It's ok for a 2-days-in-Paris tourist, but not for you if you've been watching this lesson up to now.
B) Spoken French is very different from written French.
Beyond the conversation rules, spoken French is VERY different from written/ textbook French. That's how I hear shocking stories from advanced students with a decade of French lessons under their belt who don't understand real spoken French.
Real spoken French is fast with special grammar and vocabulary. And I'm not even mentioning teenage French VS Président Emmanuel Macron's French.
Youth French is full of special slang, communication codes and tones of voice that make the language difficult to understand to an untrained ear, on purpose.
Président Emmanuel Macron is famous for using difficult, sometimes a bit outdated French words on purpose, such as the super famous "poudre de Perlimpinpin" (magic powder) and "croquignolesque" (weird, a bit fun). He wants his French to shine, like old-fashioned political language. Considering he's only 40, it makes his vocabulary even more disconnected from everyday life.
You can read more about his unusual French here.
So if you're planning on actually using the French you learn in a conversation, switch the spoken French fast or you'll end up in the limbo of "I can read Victor Hugo but can't understand a French person from the 21st century".
Spoken French and written French being different is why we don't artificially slow down our audio dialogues at Comme une Française. It doesn't make any sense in French, and it is not the best way to learn a language. We provide articulate readings instead.
C) Being boring in French is a cultural sin.
Conversation is an art form. If you can't be creative, you'll bore French people to death. I've known that for 30 years.
But it was fun to see it in a post by Pamela Druckerman who wrote "Bringing Up Bébé" in The New York Times: "Even among friends, being dull is almost criminal."
Arguing strongly can be a cultural sin in the United States. It's supposed to be followed by violence and a destruction of friendship. In France, it's a basic requirement. This is one of the biggest cultural misunderstandings!
This is what I see from students with no cultural skills: you can hold a conversation, but only in a 1-1 context with a French speaker. You can't understand a dialogue (beyond the words) between several French people on TV, in a movie or in real life. Conversation always has subtleties that you have to read between the lines.
Don't take a native as a conversation practice partner. They want to have a lively exchange with you. As mentioned above: be a fully functional adult in your second language.
Want to save this for later ?
In conclusion, knowing how to learn a second language fast and fluently goes so far beyond knowing the best tools or books. I want you to understand that you MUST:
Stop comparing yourself with a child and being desperate at how slow you think you are at learning a second language.
Learn how to prioritize your second language learning in order to focus on how to speak like an adult rather than obsessing about just "learning more."
Keep an eye out for what is specifically missing from your French and take the right steps to fill the gaps in your spoken French.
Et toi ?
What difference between French and your native culture have you noticed recently?
Let me know in the comments below.
Bonne journée,
Géraldine