You want to speak better French. That's why you're here, after all! You spend time learning grammar, vocabulary, watching French movies… and then you try to understand a real French person talk.
And they speak fast. It's scary, and maybe even a little intimidating!
You understand a word or two, maybe a full sentence, but it's quickly overwhelming. They skip half of the consonants, and even vowels!
Don't worry
I'm here to help! In today's lesson, you'll get some tricks and techniques to help you fit in better in real-life French conversations. Think of this lesson as your "15-minute Cheat Sheet" to better understanding fast spoken French!
Learning goals (What happens after this lesson?)
– Beginner: You are familiar with how French sounds in real life. You know what to aim for.
– Intermediate: You spot fast French elements in French movies.
– Advanced: You add fast French elements to your own spoken French.
BONUS: I recently did a lesson where I break down the difference between "Authentic French" and "Movie French", with three case studies of great French films: Click here to get your Bonus Lesson – Real-life spoken French vs Movie French
Bonjour c'est Géraldine, Bienvenue sur Comme une Française. C'est parti !
Want all the vocabulary of the lesson ?
Want to read this lesson later ?
1) Pronunciation of fast spoken French
— WARNING —
Fast French is NOT "just" slow French spoken faster.
You shouldn't rely on software that accelerates dialogues to give you a taste of natural fast French. (Nor can you just slow down natural fast French and get a clearly articulated conversation.) There are many specific pronunciation and shortcuts that come into play.
Think of it like the difference in English between "I have got you" and "gotcha," for instance.
In this written lesson, I'll write some words as we pronounce them in real spoken French. This "fast spoken French spelling" (in italics) is not correct and not used in written French. I just use it to help you understand.
a) Eating the "e"
An "e" in the middle of a French word often disappears in natural conversation (in the common "Parisian accent" at least.)
"La boulangerie" becomes "la boulanj'rie" for instance.
(By the way, check out my lesson on shops in French for all the shop names you need to know for your trip to France)
"Petit" (=small) is pronounced like "p'ti." Such as in this perfectly "French" song, Viens boire un p'tit coup à la maison ("Come have a little drink at our house") !
In a full sentence, there are often several possibilities. Let's take a look at an example:
We would write Je me suis réveillée à 6 heures. (="I woke up at 6.")
But you would more likely hear "J'me suis réveillée…" ("Je" becomes "J"), or "Je m'suis réveillée…" ("me" becomes "m'".)
There's no hard rule in this case: it depends on the speaker's personal habits and/or the region they come from.
b) Transformation of sounds
In fast spoken French, the "J" sound often mutates into "Ch" before a consonant.
For instance: Je suis (= I am) becomes J'suis (the "e" disappears) becomes Chui ("J's" turns into "Ch.")
→ Je suis allée à la boulangerie sounds like "Chui allée à la boulanj'rie" in fast spoken French.
You might even hear "Chu allé…", depending on the speaker.
Similarly, "Je te…" and "Je t'ai…" turns into "Ch'te" / "Ch'tai."
Je t'ai apporté des bonbons → "Cht'ai apporté des bonbons"
(To be fair, this sentence is often shortened into a simple, universal: "Aaaah!" ;).)
c) Transformation of words
Changes in sounds in spoken French can create new "words".
Very common changes:
Oui → "Ouais"
Non → "Nan"
In both cases, the "spoken French" version is more informal, with less weight or certainty behind it.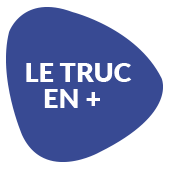 "Ouais" can mean the English "meh." French people also use "Mouais," to mean "more or less" / "I guess so"…
— —
Other very common "fast spoken French" words are created by cutting the end of words or groups of words. Such as:
D'accord (= I agree) → "d'ac"
À plus tard (= See you later in the day!) → "À plus" (And then "A+" in text messages)
Un déjeuner → "un dej"
Un petit-déjeuner → "un petit-dej" (And then, by eating the "e": "un pti-dej")
Il faut que → Y faut que (the "l" disappears like in "Il y a") → Faut que
2) Grammar of fast spoken French
During my 2018 French Summer Camp, I talked about how to speak French more fluently. It's a great complement for today's lesson, especially on the differences between the "correct" French grammar, and the one French people actually use in real life.
a) Drop the "ne" in negation
This is the classic, most-actionable tip to start speaking like French people do.
Correct French grammar includes "ne…pas" for negations, but French people very rarely use the "ne" in spoken conversations.
Je n'aime pas les Paris-Brest. (= "I don't like the Paris-Brest pastry." ) becomes "J'aime pas les Paris-Brest."
Building on this, spoken French also has an interesting expression. It's a negation without any negation marker!
Ne t'inquiète pas (= don't worry) drops the ne. It becomes: T'inquiète pas.
But in colloquial conversation, in this case, even the pas is dropped! So we have: T'inquiète !
It's a common colloquial expression that means "don't worry" / "I take care of it." It doesn't mean "Do worry," there's no ambiguity here. "Do worry" would be "Inquiète-toi."
→ T'inquiète, j'ai acheté des éclairs.
(= Don't worry, I took care of it, I bought some "éclairs")
b) No inversion in questions
In correct French grammar, the verb comes before the subject in a question: Préfères-tu un éclair au café ou au chocolat ?
(= Would you rather have an éclair with coffee or chocolate flavor?)
In fast spoken French, French people don't bother making this inversion!
The subject comes before the verb just like any affirmation. The question comes from the inflexion of the voice at the end:
Tu préfères un éclair au café ou au chocolat ?
(= same sentence, but "Tu" comes before "préfères.")
c) "Nous" becomes "on"
Nous is the correct pronoun for "We" (1st person subject, plural.) In correct written French, at least.
Nous mangeons des pâtisseries tous les lundis.
(=We eat pastries every Monday.)
However, in modern spoken French, the conjugation makes the sentence longer, and there's no time for that! So, "Nous" is very unusual as a subject in an informal conversation – instead, French people use "On" (with a 3rd person singular conjugation.)
On mange des pâtisseries tous les lundis.
(= same as above, but more informal)
There are several uses of "On," though. I break them down for you in a lesson on how to use "on" in modern spoken French.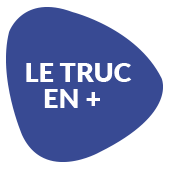 De même manière, "ne t'en occupe pas" (= don't take care of it ) devient "t'occupe" (= that's none of your business) en français informel.
3) Other characteristics of fast spoken French
a) French fillers
French people use a lot of fillers in their sentences. They're called un tic de langage.
Some of them are:
Euh → the most common, whenever we're looking for words or hesitating (like "uh" or "umm" in English).
Tiens → literally "Hold", used as "Oh!" for surprise (or feigned surprise)
Voilà → "Here it is" / "That's it." / "Exactly." A way to agree with someone, emphasize a point, or end your sentence.
Tu vois → "You see"
Bah / ben → A deformation of "Bien" or "Eh bien" meaning "Well…"
Quoi → "What," some people use it as a punctuation, with a distanced meaning of "And what are you going to do about that?" / "And what's wrong with that?" / "Or what?"
Example:
– Tiens, Michel, tu fais quoi? (= "Oh, that's Michel! What are you doing?")
– Euh… Bah je vais acheter le pain, quoi ! (= "Well, I'm just going to buy bread.")
b) Familiar vocabulary and use
Fast spoken French often involves French slang. Don't use it in your essays or in formal conversations with strangers!
Examples of French slang:
une femme → une nana (= a woman, a gal)
un homme → un mec (= a man, a guy)
comment ? → quoi ? (= what did you say? "Comment" is considered more polite than the slouchy "Quoi")
beaucoup → vachement (= a lot. "Vachement" is more informal, "uglier".)
In French slang, some French words substitute for others. "Faire" (= to make) is used instead of "dire" (= to say), for instance.
Example:
Le mec me fait "Vous voulez 5 éclairs ? Vous avez si faim que ça ?"
The guy then tells me: "You want 5 éclairs? You're really so hungry?"
c) "Mistakes", like in your language
The most difficult thing in fast spoken French isn't really slang or conscious changes of grammar. No, it's plain mistakes!
French people often won't bother finishing their sentences. They'll start, stop, hesitate, change their course mid-sentence…
As in any language, it involves context, body language, the tone of voice. And each French person has their own habits and preferred words, as well as regionalisms that are still common all across the country.
And that complexity is the beauty of spoken French! It's something you can only learn with time, and with practice.
Beginner:
How would this sound in fast spoken French?
Je suis allée à la boulangerie cet après-midi et je t'ai acheté un croissant.
Intermediate:
How would this sound in fast spoken French?
N'aimez-vous pas les macarons ?
Advanced:
How would you turn this fast spoken French sentence into "correct" French?
Ah bah bien. T'as ram'né ton mec à la soirée d'la boîte, jte félicite pas ! T'abuse, quoi. On avait dit : "pas d'mari ni d'femme"!
Check out the video lesson to hear the answer!
Want to save this for later ?
Your turn now – ET TOI ?
→ What is your favorite way to better understand fast spoken French?
Give me recommendations, I love to hear from your own personal experiences!
You can answer in French in the comment section on the blog. I'll give you pointers for your mistakes and read all your replies!
For example:
"J'aime regarder "Echappées Belles" sur YouTube, surtout les épisodes sur la France."
(= "I like to watch "Echappées Belles" on Youtube, especially the episodes about France.")
("Echappées Belles" is a French travel show, on public television. You can watch it here.)
And now:
→ If you enjoyed this lesson (and/or learned something new) – why not share this lesson with a francophile friend? You can talk about it afterwards! You'll learn much more if you have social support from your friends 🙂
→ Double your Frenchness! Get my 10-day "Everyday French Crash Course" and discover more spoken French for free. Students love it! Start now and you'll get Lesson 01 right in your inbox, straight away. Click here to get started
Allez, salut 🙂