Bonjour, c'est Géraldine. Bienvenue sur Comme une Française !
You know the cliché: French is the language of love. And there's some truth in that 🙂
But it's easy to make embarrassing mistakes and sound like a fool when sharing what you like.
Valentine's day is coming, so let's fix this
Learning goals:
This is what you'll be able to do after watching this lesson
Beginner: Master the conjugation of "aimer"
Intermediate: Avoid the classic embarrassing mistakes around "like VS love" in French
Advanced: refine your vocabulary when talking about your tastes and hobbies, in French
Bonjour c'est Géraldine, Bienvenue sur Comme une Française. C'est parti !
Want all the vocabulary of the lesson ?
Want to read this lesson later ?
1 - The basics: the conjugation of "aimer"
You're never too advanced to review your basics!
aimer = to love
Like most verbs that end in "-er", Aimer is a "first group" verb. All first group verbs share the same conjugation. At the present tense, we have:
J'aime → I love
Tu aimes → You love (singular, for friends or family) [the "s" is silent]
Il/Elle/On aime → He/She/"Informal We" love
Nous aimons → ("formal") We love [the "s" is silent]
Vous aimez → You love (plural, or "formal" singular) [the "ez" sounds like "é"]
Ils/Elles aiment → They love (masculine or feminine "They") ["ent" is silent]
2 - The big embarrassing mistake with "aimer"
"Aimer" (alone) someone = to love (romantically or in your family). By itself, it's very powerful!
It's a strange verb, really: the more you add to it, the less powerful it becomes. We'll see that in part #3. If you add an adverb to "aimer (quelqu'un)" (= to love someone), it becomes "to like" or at least a bit less than "to love."
In French, we don't "love" easily: "Aimer" (on its own) is used much less in French than "love" is in English. In French, it's more subtle.
"I love cheese !" is a bit different than "J'aime le fromage !"
But still: "Aimer" someone = romantic/family love.
Michel aime Jeanne.
= Michel is in love with Jeanne. (Nothing less!)
It can be used in some literary (or ironic) meaning for a very strong friendship bond, on par with family ties, but you need the exact right context to make it sound casual.
So be very careful with your use of "aimer" in French. It can sound weird.
3 - How to translate "to love" and "to like" in French
So this might sound strange:
Aimer + adverb + someone = to like
Adverbs take down the intensity.
Famous popular French singer Jean-Jacques Goldman delves into this topic here.
So:
Je t'aime (I love you) > Je t'aime beaucoup (literally "I love you a lot" = I like you a lot) > Je t'aime bien (literally "I love you well" = "I like you")
Paul aime beaucoup Pierre. → He likes him a lot.
Marc aime énormément Pierre. → He likes him a lot, enormously.
Marie aime bien Jeanne. → She likes her.
Other verbs to translate "love" and "like":
Adorer : I love cheese. → J'adore le fromage ("Aimer" is more a "background" feeling – "J'adore" has a meaning of "being delighted," actively enjoying something. There's no meaning of "adoration" or devotion, it's just a way of speaking.)
Apprécier : I like Pierre a lot. → J'apprécie beaucoup Pierre. (It's a neutral, friendly way – almost like an assessment of personality, rather than a personal connection.)
Plaire : Pierre me plait (beaucoup) → I "like" Pierre, I might be romantically interested in him.
In context, the romantic angle can disappear: "Pierre me plaît" might mean "I like what I see in Pierre," as a "gut-feeling" assessment of his potential, his use, or his character.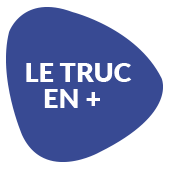 Grammatical fun fact: As you can see, "Plaire" inverts subject and object.
"Paul aime bien Pierre" ("Paul" subject, "Pierre" object) = "Pierre plaît à Paul" ("Pierre" subject, "Paul" object) = Paul likes Pierre
If you know a bit of Spanish, it might remind you of the Spanish verb "gustar" with a similar construction.
How would you translate:
I love swimming. [that's my favorite hobby] → J'adore nager.
I'm interested in Marie. → Marie me plait.
You really like cheese. → Tu aimes beaucoup le fromage.
Et toi ?
→ Tell me about one person you love and one thing you like to do.
Comment on the blog, I'd love to hear from you 🙂 In French if you dare! For instance:
"J'aime Paul, mon mari." or "J'aime beaucoup cuisiner."
I read all the answers on the blog, and I'll give you some tips to improve.
Allez, salut 😉
Want to save this for later ?
And now:
→ If you enjoyed this lesson (and/or learned something new) – why not share this lesson with a francophile friend? You can talk about it afterwards! You'll learn much more if you have social support from your friends 🙂
→ Double your Frenchness! Get my 10-day "Everyday French Crash Course" and discover more spoken French for free. Students love it! Start now and you'll get Lesson 01 right in your inbox, straight away. Click here to get started