Bonjour! Today I want to introduce you to my friend Kerstin. Kerstin is both a fantastic language teacher and a French learner, so she can help you from both sides at the same time!
Today, we'll be talking about systems, productivity, and the mistakes you don't want to make when learning French. And we'll give you tons of tips to structure your learning and become more fluent.
Let's dive in!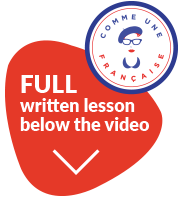 Want all the vocabulary of the lesson ?
Want to read this lesson later ?
Kerstin speaks eight languages (German, English, Russian, French…) and she's now starting on the next ones: Chinese and Welsh. Not the easiest!
She runs the Fluent Language courses and website, with a very insightful blog. Go visit her online — you'll find five years-worth of useful tips!
She also hosts the Fluent Show podcast, which I recommend wholeheartedly (and not only because I've been on it recently!). Kerstin always gives great answers to questions, and so many tips and insights. That's why I'm so glad to have her on Comme une Française today!
When I ask students what they want out of Comme une Française, they often answer: "I want to learn French."
But that's just too vague. What's important is why you want to learn. What parts of learning French will be especially useful for you?
On the other hand, if you just "want to learn French", you'll find it quite slippery: even as you think you've got it, it's gone. It's normal to not set up a good system at first, but it ends up making your learning frustrating.
Kerstin's advice to solving that problem is to focus on setting goals.
She wants you to aim for specific achievements, in different areas. You can build up your French to match your interests, without neglecting any of the four core skills: listening, speaking, reading, and writing. (More on this later on!)
You'll find a really great example of her system in her Language Habit Toolkit.
Tangible goals can go a long way into helping you achieve fluency. They come in two flavors:
Vision Goals
Learning Goals
Vision goals are what get you going. They're internal, very personal motivations that only speak to you.
Are you learning French because you want to move to France? Did you just move in here? Is it because you're in love with Paris? Or a massive fan of French wine? Are you expecting to start a business with many French clients?…
All of these can be a valid vision goal: they can help you make learning French a part of who you are. And that's important: make it a habit. The biggest failure is to stop.
Learning goals are more tangible. They're very specific and quickly achievable. The smallest things can keep you going!
Don't try to "learn 100 vocabulary words", but focus on "book a lesson with my tutor", or "read one chapter of a book". You need to counter your optimism bias: only set goals you think you'll overshoot.
Once you've set up your motivating vision and short-term practical goals, Kerstin recommends writing down your daily progress and reviewing it each month.
Mistakes to avoid:
Feeling discouraged.
Associating the process with dread… the counterproductive "Ugh" of chores, bad school grades and disappointing performance.
What to do instead:
Celebrate your journey so far.
Be clear on what you're struggling with.
If you didn't achieve some goals, don't double down. Make them smaller! Make them more fun!
Trust your teacher: their system is going to work and you're going to get something out of it.
Your personal goals and your personal questions are very important: a good system has to be tailored to your own strengths and specific situation.
That being said, a few things:
If you're not having fun, it won't work. You'll lose motivation and you'll stop. Choose fun goals! You can also reframe them as fun: like finding the meditative flow in boring grammar exercises.
Quality trumps quantity. Optimized, focused, 30-minute learning sessions work better than 3 hours of distracted, aimless study. And you're much more likely to keep a focused habit in the long run.
Create. You need to balance inputs (movies, books…) and outputs (your own writing, speaking French with someone…). After all, you wouldn't prepare for a marathon by only reading articles about running!
5. Can I learn French by watching Amélie a hundred times in a row?
I like to make students realize the difference between learning the language, and enjoying the language (like, rewatching Amélie for the hundredth time.)
Both are important! But, they're different.
Kerstin links this difference to an imbalance in your core skills. Reading and listening are two important skills, but you need to work on writing and speaking as well!
Worse, if you get too good at understanding the language but you can't make a small sentence by yourself, you'll get frustrated when you try to speak. Or as Kerstin says:
→ If you can't buy fish at the market, what are you doing watching the news?
When you're listening to inputs, you learn by progressively filling in the gaps. If it's too difficult, you won't have the structure to fill in, and your mind will switch off.
Kerstin doesn't like to learn rules on their own.
Here's what she recommends:
Read something, or say something, in French.
Ask questions as they come up: "Why is that word that way?"
Find out the answer: that's your rule!
Identifying patterns is awesome!
If you want to learn vocabulary, or anything else, you can try flashcards, vocabulary lists, Duolingo, labelling things in your house… Or more tips from Kerstin's Vocab Cookbook!
They're recipes: try the ones you think you might like until you find what works for you. The only important things are repetition and using what you learn.
(Anything you learn only once and then never use will vanish, for sure.)
Of course, learning vocabulary is always a lot of work. But the most important thing is to trust yourself, and the system: fun inputs, successive lessons… You can do it.
7. Resources for Learning French
When Kerstin learned French in school, she struggled with two problems:
The subjunctive. (Because, obviously. Subjunctive is weird.)
Motivation.
She didn't have the most inspiring teacher, and she didn't know any kind of French fun pop culture. Nowadays, she has found better resources, yet she still doesn't have complete confidence in her spoken French.
→ So don't worry: even she thinks her French is bad, when it's really not !
Some resources Kerstin uses to learn French with fun:
Blog: Madmoizelle – a fun way to get into French culture and French news. Kerstin finds it more fun to read than Le Monde or Le Figaro, and that's important!
Podcasts: 9 of Her Favorite Podcasts.
And travels to France!
Find out what works for you. Get something you like! If you love gardening, get gardening books! You'll be sure to learn vocabulary you'll actually use.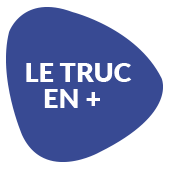 Sign up to Kerstin's newsletter!
You'll have access to a library of resources she gathered along with Shannon, a neuro-linguist.
Kerstin offers great courses to build a language habit and spread her love of languages. I can tell you, it's a great investment in yourself! Even after an introductory class to structure your language learning, you'll improve your French so much faster!
A good place to start: Focus & Fluency. This program helps you apply yourself, find greater focus, and manage your time.
Get 20% off by using this voucher code is CESTGENIAL10 or you can use this link.
Due to EU VAT, the offer will look a little different to every person. So Kerstin made the price 20% lower to allow for this. 🙂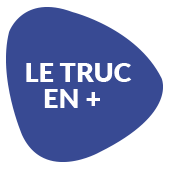 There's no real word in French for a high-five, so we use "un high-five". But we sometimes use "Tope là !" when we want to do a high-five. It depends on the people!
Want to save this for later ?
Et toi ?
How would you improve your own system to learn French?
Tell me in the comments section, I'd love to hear from you.
You can also give me your ideas for future videos, for topics you'd want me to cover!
Get more cultural advice and detailed conversation scripts in my "Everyday French Crash Course." It's a 10-day mini-course to sound French, even to the French. It's free, it's useful, it's fun. Click here to subscribe right now!