"Manger sur le pouce", "se tourner les pouces"… Colloquial expressions like these are a great way to s ("don't move an inch")"Manger sur le pouce", "se tourner les pouces"… Using colloquial French expressions like these are a fun and easy way to sound more natural when you speak French.
Today, we're going to focus on a few of them that all mention le pouce (= thumb)! Yes, we really do have a lot of weird French expressions 😉 .
Learning goals: This is what you'll be able to do after watching this lesson
Beginner: Learn the 5 French expressions using "thumb"
Intermediate: Learn the synonyms as well
Advanced: Learn the examples and know how to use them in everyday French conversation
Bonjour c'est Géraldine, Bienvenue sur Comme une Française. C'est parti !
Want all the vocabulary of the lesson ?
Want to read this lesson later ?
Un coup de pouce (= a thumb's hit / a thumb's push, literally)
It's a small push in the right direction: de l'aide (= a little help).
Géraldine m'a donné un coup de pouce en français.
Géraldine gave me a little help in French.
Manger sur le pouce (= to eat on your thumb, literally) is an expression that I love.
It means "to eat quickly" or even "to eat while walking / while on the run", for instance by taking a sandwich or some fast-food to go instead of sitting down with people to have a real French meal.
In French, you can also say manger rapidement or manger vite fait (= to eat quickly). Or you could precisely mention the meal: déjeuner sur le pouce (= to have lunch quickly), dîner sur le pouce…
Je ne peux pas t'accompagner au restaurant car je suis pressée. Je vais déjeuner sur le pouce avant d'aller prendre mon avion pour Paris.
I can't go to the restaurant with you, because I'm in a hurry. I'll have a quick dinner before I take my flight to Paris.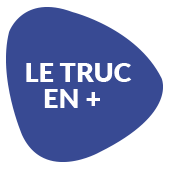 Se tourner les pouces (= to turn your thumbs around, literally) means "to twiddle your thumbs" as a French expression for rester sans rien faire (= being idle).
You can't really do anything else while you're twiddling your thumbs, after all!
Tu pourrais m'aider à réviser ma conjugaison au lieu de te tourner les pouces.
You could help me practice my conjugation, instead of twiddling your thumbs.
Pouce ! (= Thumb!, literally) is a fun, short, childish French expression. It comes from children playing — when one of them needs a break, he or she yells "Pouce!" and the game is supposed to stop.
So in French, "Pouce !" means "Truce" or "Stop for a minute, I need to take a break from what's going on / from the competition."
Pouce ! J'ai un caillou dans ma chaussure.
Truce! I have a small rock in my shoe.
Finally, le pouce is also French for "an inch". It's une unité de mesure, a small unit for measurement that was used in the past. After the French Revolution, it was replaced by the metric system, including le centimètre (= the centimeter).
In French expressions, though, you can use un pouce or un centimètre interchangeably to mean "a very small amount."
As in :
Ne pas bouger d'un pouce ("don't move an inch")
Ne pas avancer d'un pouce / d'un centimètre (= "not even get any further than a centimeter / an inch")
Ce mois-ci, je n'ai pas avancé d'un pouce dans la lecture des Misérables de Victor Hugo.
This month, I didn't advance even a page in reading Victor Hugo's Les Misérables.
QUIZ – Your turn now: What is the French expression for ...?
Truce! 

Eat on the run

Give a little help
(
Answers =
Pouce !
/
Manger sur le pouce
/
Un coup de pouce
)
Et toi ?
Partage une expression en français avec laquelle tu as du mal.
Share a French expression you struggle with (in the comments).
In French, if your dare! For example, you can write: "J'ai toujours eu du mal à comprendre "au fur et à mesure".
Want to save this for later ?
And now:
→ If you enjoyed this lesson (and/or learned something new) – why not share this lesson with a francophile friend? You can talk about it afterwards! You'll learn much more if you have social support from your friends 🙂
→ Double your Frenchness! Get my 10-day "Everyday French Crash Course" and learn more spoken French for free. Students love it! Start now and you'll get Lesson 01 right in your inbox, straight away.
Click here to sign up for my FREE Everyday French Crash Course
Allez, salut 🙂